Reflection D Cross Discus, Green Base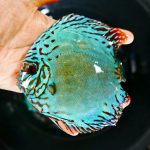 Reflection D Cross Discus, Green Base
$48.00 – $155.00
$48.00 – $155.00
The Next UPS Overnight Shipping Window Unlocks In:
The Current UPS Overnight Shipping Window Closes In:
Beauty. The dark pattern on top of the green base make this reflection D cross discus an amazing fish to look at and to remember all the beautiful dreams, memories, and aspirations these colors invoke. Your favorite place, person, or thing. Mother Nature never lets us down with her beauty.  What initially comes to my mind is a place in nature on my bucket list that I've always dreamed about visiting… the Bahamas.
Among these 700 islands, cays and islets is a place my friend Al takes visitors to go ocean fly fishing for the elusive bonefish. Every time I see one of Al's ads and photos from previous ocean fly fishing excursions, I see this green, aqua color. I also see a tall, dark Bahamian man holding a long pole at the stern of a small boat and ME fly casting from the bow.  I cast and I cast and not a trace of a bone to be found but I don't seem to care. It's the patterns of color and the beauty of the aqua green water.  We're fishing the shallows, where the bones hang out, and suddenly my guide points to 4 o'clock on my left side.
I cast and whack! Another fish of beauty besides this D cross hits my line… Well… if I could only afford the $5,000 for Al's trip I would be able to cross this puppy off my bucket list. Sounds expensive but…Al provides you with air fare and  a great cottage by the ocean, and that beautiful green/aqua color pervading everywhere. And you get a first class chef cooking all you catch. And Al is one of the greatest fly fishermen on the planet.
I once had to wait a week to interview Al because he was over in Italy judging a fly tying competition.  Nice, right? And in my dreams I always hear that song from the television ad…"Jamaica, Bahamas… " with the nice rhythms… casting… casting… enjoying aqua beauty in the Bahamas… the serenity of the islands… Someday… awww… I don't want to wait until "someday"… I want this now! Maybe I should sell everything I own and buy a boat and sail down to the Bahamas…
Ever hear about author Eckhart Tolle's great book "The Power of Now"? I have and I'm going to listen to this wise man, this guru, and live for NOW. I'll sell everything I own, buy that dream boat, and sail down to the Bahamas. I'll pay off my bills first with the funds from the sale…and…then…sail NOW! This reflection D cross discus did it to me…it made me live in the NOW.  Glorious discus thanks for being there for me, and constantly reminding me my bucket list dreams are doable…NOW.
By Robert Gluck
Reviews (0)
Free Shipping Offer!
Have a question about this product?
---
Only logged in customers who have purchased this product may leave a review.
Q: How are your stated fish measurements conducted?

A: All measurements are made from tip of nose to end of tail.

Q: How do I make a purchase?

A: Every discus you see on our website is available for immediate purchase and ready to be shipped to you. Click the "Add to Cart" button on your desired products, adjust your quantities, and follow the checkout instructions. We honor all special requests. Please allow a 2-day minimum handling period for discus.

Shipping Tiers for Live Tropical Fish: 

$60 Airport Shipping, $80 UPS Overnight

Free Discus/Altum Shipping

on orders over $400

Free Discus/Altum Shipping

PLUS your choice of a Complimentary Handcrafted Breeding Cone OR Discus.com T-Shirt  on orders over $600: (add your desired selection to your cart, and use the promo code: BONUS-CONE)

Blackworms: Free USPS Postal Shipping

Plants: $10 FedEx Priority Shipping, Minimum Order: $15

International Buyers Please Note: Import duties, taxes and charges are not included in the item price or shipping charges. These charges are the buyer's responsibility. Please check with your country's customs office to determine what these additional costs will be prior to purchasing.