White Carnation Pigeon Discus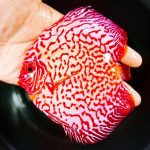 White Carnation Pigeon Discus
$136.00 – $178.00
$136.00 – $178.00
The Next UPS Overnight Shipping Window Unlocks In:
The Current UPS Overnight Shipping Window Closes In:
Her name was Sarah, and she sat two rows over from me in sixth grade English class. I had saved up all my allowance to buy her a red rose for Valentines's Day – all I could afford. The rest of the bouquet was made up of less expensive red and white carnations, but that single red rose I just knew would make her say YES.
My palms were clammy and my voice shook when I asked her to the dance. That was many years ago, before time drew its map of lines on both our faces. But just like the red maze design of this extraordinary fish, love and life are speckled with stops and starts, with paths taken and left untaken. And when I look at her now, this much older Sarah, MY Sarah, who said YES that day and YES again when I asked her to marry me eighteen years later, I'm grateful for the smile lines I see reflected back to me. And when I give her this beautiful, rare discus, I hope she will see what I see, which is much more than a fish or even a gift. It is a reminder of the long journey through the many twists and turns, stops and starts, cities and houses and children and dreams and successes and failures – along the maze that has been our life together, our love.
Reviews (1)
Free Shipping Offer!
Have a question about this product?
---
Only logged in customers who have purchased this product may leave a review.
Q: How are your stated fish measurements conducted?

A: All measurements are made from tip of nose to end of tail.

Q: How do I make a purchase?

A: Every discus you see on our website is available for immediate purchase and ready to be shipped to you. Click the "Add to Cart" button on your desired products, adjust your quantities, and follow the checkout instructions. We honor all special requests. Please allow a 2-day minimum handling period for discus.

Shipping Tiers for Live Tropical Fish: 

$60 Airport Shipping, $80 UPS Overnight

Free Discus/Altum Shipping

on orders over $400

Free Discus/Altum Shipping

PLUS your choice of a Complimentary Handcrafted Breeding Cone OR Discus.com T-Shirt  on orders over $600: (add your desired selection to your cart, and use the promo code: BONUS-CONE)

Blackworms: Free USPS Postal Shipping

Plants: $10 FedEx Priority Shipping, Minimum Order: $15

International Buyers Please Note: Import duties, taxes and charges are not included in the item price or shipping charges. These charges are the buyer's responsibility. Please check with your country's customs office to determine what these additional costs will be prior to purchasing.