Wild Classic Brazilian Heckel Discus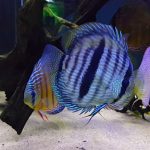 Wild Classic Brazilian Heckel Discus
$150.00 – $175.00
$150.00 – $175.00
The Next UPS Overnight Shipping Window Unlocks In:
The Current UPS Overnight Shipping Window Closes In:
Sure, I've got a wild Brazilian outing in my dreams and on my bucket list. Carnaval do Rio de Janeiro, the world's biggest carnival/festival, with two million people per day on Rio's streets… that's the one I dream about attending. What happens in Rio stays in Rio? Nope, that's Vegas… but it may apply to those adventurers willing to take the plane to the train and get to Brazil.
Brazil's Wild Brazilian Yellow Heckel Discus tells me this: Enjoy Your Festivals! Honor Your traditions! Here in northeastern Pennsylvania, my mom's side of the family–Lithuanians from the old country–had their traditions. Ever since I was a small boy, my parents took me to the festivals here in Pennsylvania's Pocono Mountains, anthracite coal country where many European immigrants came to work in the mines. They had it rough, the immigrant miners, owing their souls to the company store. But… they enjoyed a festival now and again. Today their ancestors still hold those ethnic festivals and I bring my children for pierogies, halupki and the culinary artistry of the Pennsylvania Dutch. Shoo fly pie got its name because the Dutch (really Germans) put the pies on the open window sills and had to "shoo" the flies away from the sweet smells emanating into the cool mountain air.
When I was a boy in the PA mountains I stumbled upon my uncle Bill's book about the Amazon rainforest in Brazil. We talked about going there and from those moments going forward I always dreamt of going to see the most concentrated amount of plants and animals in any one spot on God's good green earth.
This fish's yellows and browns scream the word WILD BRAZIL!
"Honey… call our travel agent…"
"But we don't have a travel agent dear…""
"No worries… we'll book a flight for Carnival which is held every year before Lent. And then we'll take a boat up the Amazon and check out the world's most fantastic rainforest."
"Will Sting be there dear?"
"No but we will."
By Robert Gluck
Reviews (1)
Description
Free Shipping Offer!
Have a question about this product?
---
Only logged in customers who have purchased this product may leave a review.
Description
Collectors yearning for the iconic look that can only be obtained with a heckel would be hard-pressed to find a fish that exceeds our classic Brazilian heckels. Each fish has the signature jagged "lightning bolt" that runs vertically through the fish sides, almost creating an "Eye of Sauron" Lord of the Rings look.
Q: How are your stated fish measurements conducted?

A: All measurements are made from tip of nose to end of tail.

Q: How do I make a purchase?

A: Every discus you see on our website is available for immediate purchase and ready to be shipped to you. Click the "Add to Cart" button on your desired products, adjust your quantities, and follow the checkout instructions. We honor all special requests. Please allow a 2-day minimum handling period for discus.

Shipping Tiers for Live Tropical Fish: 

$60 Airport Shipping, $80 UPS Overnight

Free Discus/Altum Shipping

on orders over $400

Free Discus/Altum Shipping

PLUS your choice of a Complimentary Handcrafted Breeding Cone OR Discus.com T-Shirt  on orders over $600: (add your desired selection to your cart, and use the promo code: BONUS-CONE)

Blackworms: Free USPS Postal Shipping

Plants: $10 FedEx Priority Shipping, Minimum Order: $15

International Buyers Please Note: Import duties, taxes and charges are not included in the item price or shipping charges. These charges are the buyer's responsibility. Please check with your country's customs office to determine what these additional costs will be prior to purchasing.