Wild Super Red Cuipeua Discus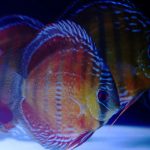 Wild Super Red Cuipeua Discus
$160.00 – $250.00
$160.00 – $250.00
The Next UPS Overnight Shipping Window Unlocks In:
The Current UPS Overnight Shipping Window Closes In:
The Wild Super Red Cuipeua Discus has lovely gradient coloring ranging from shades of red-orange to russet. Vertical bands and horizontal stripes mark its body, creating subtle visual interest. Vivid electric blue markings run along its fins and head, forming a mask that further draws your attention to its captivating crimson eyes. Whether you keep many or add just a few to your school, this wild discus will illuminate your tank with natural beauty.
Reviews (0)
Description
Free Shipping Offer!
Have a question about this product?
---
Only logged in customers who have purchased this product may leave a review.
Description
Cape Cod.
The wild super red cuipeua discus, in my mind, reminds me of the trips I've taken to the arm-like land protuberance extending like a he-man flexing his biceps off Massachusetts' southeastern corner.
Traveling to the Cape years ago we rented a cottage in North Eastham from a Russian woman named Elka. Her cottages were within walking distance from some nice beaches.
We watched the sunset and the sunrise on the Cape and each experience looked like this Wild Super Red. The brilliant reds, oranges, pinks, and yellows of our suns melted away like pastels in a frying pan.
Witnessing the sunset from First Encounter Beach, we tried to understand this Beach's place in history. It was here, at this beach, that the Pilgrims first encountered the Native Americans on the North American continent. Talk about culture shock! Sitting in our beach chairs, sinking in the low tide's sands, we gazed upon the colors with awe, understanding there was a historical aspect to our thoughts.
The sunrise was a romantic outing with my lover where we raced to get there, and just pulling into our parking spot near the ocean, we saw the pink orb peaking through, like a cute mouse from under its hidden home. We hugged and kissed, and like Jesus, felt like we could walk on the water!
On top of the red brilliance of the setting and rising suns we enjoyed the red brilliance of lobsters. Cooked on an open fire, cracked and dipped into drawn butter with a splash of lemon……mhmmmmmm….there's nothing better!
Wild Super Red Cuipeua I summon thee for more Cape Cod memories…
There was that time we saw a seal swimming in the ocean and we took a video of it from one of our phones. With the recent proliferation of seals on the Cape the seals' predator–the shark–has also reappeared. Signs warning swimmers and boaters about sharks appear on fenceposts near most of the beaches here. It would be in all of our best interests to pay heed to these warnings.
But it's all good. Sharks are a necessary part of the great mix of animals and plants that need each other in the world's great oceans. It's called balance and nature's balance can and is being upset by man's doings. That's a whole other discussion, but suffice it to say you can do your share to keep this balance by respecting all beaches you happen to be visiting.
And we all benefit from our ocean's bounty. Besides the lobsters, we enjoyed pan seared diver scallops, fresh oysters on the half shell splashed with hot sauce, and sashimi style blue fin tuna dipped in soy and wasabi.
So thanks Wild Super Red Cuipeua because you know what? When things don't seem to be going our way, memories are all we have.
By Robert Gluck
Q: How are your stated fish measurements conducted?

A: All measurements are made from tip of nose to end of tail.

Q: How do I make a purchase?

A: Every discus you see on our website is available for immediate purchase and ready to be shipped to you. Click the "Add to Cart" button on your desired products, adjust your quantities, and follow the checkout instructions. We honor all special requests. Please allow a 2-day minimum handling period for discus.

Shipping Tiers for Live Tropical Fish: 

$60 Airport Shipping, $80 UPS Overnight

Free Discus/Altum Shipping

on orders over $400

Free Discus/Altum Shipping

PLUS your choice of a Complimentary Handcrafted Breeding Cone OR Discus.com T-Shirt  on orders over $600: (add your desired selection to your cart, and use the promo code: BONUS-CONE)

Blackworms: Free USPS Postal Shipping

Plants: $10 FedEx Priority Shipping, Minimum Order: $15

International Buyers Please Note: Import duties, taxes and charges are not included in the item price or shipping charges. These charges are the buyer's responsibility. Please check with your country's customs office to determine what these additional costs will be prior to purchasing.