Albino Red White Discus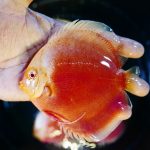 Albino Red White Discus
$136.00 – $155.00
$136.00 – $155.00
The Next UPS Overnight Shipping Window Unlocks In:
The Current UPS Overnight Shipping Window Closes In:
Being comfortable in your own skin indicates that you are content. It is a solid reflection of yourself being happy with the way things are going. The Albino Red White Discus sets a great example of how we should try to live our own lives (the critter is comfortable in its own scales). In many ways, I can connect to this colorful Discus. No, I do not look like the striking critter – at least I don't think I do! But red has always been my favorite color. There's something about red that catches my attention. Perhaps it's because the tone stands out from the rest. Red is also the color of courage. And like this particular Discus, I like to swim to the beat of my own current.
My friends and family always tell me how 'brave' and 'free spirited' I am. Traveling the world has always been a hobby of mine. It allows me to see what's beyond what most people consider 'normal'. After I announced that I was moving to New York City, my family asked why I was making that decision. My answer to that question was, "Why not?" In my mind I was not thinking about the things I should be afraid of. Instead I was asking, "Why be afraid of trying new things in life? Why not embrace what comes to you?" In a way I was answering their questions with more questions. Questions I believe we should all ask ourselves when trying to make life changing decisions. I then realized that having diversity in my life was important to me. My cousin once told me that traveling and exploring is good for the soul. I totally agree! Because of my 'go with the flow' attitude, I've been able to live a fulfilling life without any regrets. Results came from my decisions such as having many good stories to tell. Most of which I hope I can inspire people with.
The Albino Red White Discus will grab everyone's attention with its red-orange color which gives its scales a glossy look and a smooth texture
The colors red and orange are symbols of excitement, power, strength, creativity, warmth and positivity
The Discus earns part of its name by showing some white pigmentation around its face which then disappears as it reaches about ¼ of its way to the rest of the body (white is a symbol of purity and protection)
The body is flat and round which also adds to a more distinctive look
The fins appear to be smooth (like paint brushes) extending a few centimeters away from the body
The Albino Red White Discus will give your aquarium and home more fun with its spunky and stimulating features
Available sizes: 4.5 – 5.0" and 5.0- 5.5"
This extraordinary critter will be good for your soul with its presence and its colors. The Albino Red White Discus isn't afraid to live a colorful life and neither should you!
Reviews (0)
Free Shipping Offer!
Have a question about this product?
---
Only logged in customers who have purchased this product may leave a review.
Q: How are your stated fish measurements conducted?

A: All measurements are made from tip of nose to end of tail.

Q: How do I make a purchase?

A: Every discus you see on our website is available for immediate purchase and ready to be shipped to you. Click the "Add to Cart" button on your desired products, adjust your quantities, and follow the checkout instructions. We honor all special requests. Please allow a 2-day minimum handling period for discus.

Shipping Tiers for Live Tropical Fish: 

$60 Airport Shipping, $80 UPS Overnight

Free Discus/Altum Shipping

on orders over $400

Free Discus/Altum Shipping

PLUS your choice of a Complimentary Handcrafted Breeding Cone OR Discus.com T-Shirt  on orders over $600: (add your desired selection to your cart, and use the promo code: BONUS-CONE)

Blackworms: Free USPS Postal Shipping

Plants: $10 FedEx Priority Shipping, Minimum Order: $15

International Buyers Please Note: Import duties, taxes and charges are not included in the item price or shipping charges. These charges are the buyer's responsibility. Please check with your country's customs office to determine what these additional costs will be prior to purchasing.