Crimson Star Alenquer Discus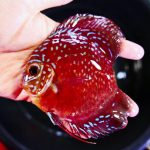 Crimson Star Alenquer Discus
$233.00 – $285.00
$233.00 – $285.00
The Next UPS Overnight Shipping Window Unlocks In:
The Current UPS Overnight Shipping Window Closes In:
The Crimson Star Alenquer's blood red color embraces the source of blood…the heart. Feelings. Compassion. Empathy. And perhaps most importantly…what the human heart represents…Love. That feeling when you know your partner truly loves you…will do anything for you. Then you decide to build a life together and everything looks better, tastes better, feels better. Life itself takes on a whole new glow…the crimson glow of love. Late night phone calls until 4 am kind of glow.
Thinking about this type of love makes one cry for joy and smile, like the feeling you get watching Whitney Houston sing the national anthem. Did you know love wasn't always like this? Legend has it that back in the 13th century or so there were, up until that point, only arranged marriages in human societies around the world. Then, in the 13th century, the troubadours discovered "amore"–romantic love of the heart, the crimson kind. A troubadour was a composer and performer of Old Occitan lyric poetry during the High Middle Ages (1100–1350). Sounds romantic, don't it? These traveling storyteller/artists proclaimed love's glory and some were even imprisoned and tortured for saying so.
After a while though their stories of crimson love took hold and now today, modern crimson love reigns although there are a few pockets left of arranged marriages. So whether it's Valentine's Day or not, go for it. It makes the earth move under your feet as Carol King sang. Love is all you need, so sang the Fab Four. But you know they are right, don't you?
And let's let Dylan, the master songwriter weigh in on love…how about this line from Love Minus Zero (No Limit)… "My love winks, she does not bother…she knows too much to argue or to judge." I've always loved that line because for me, arguing and judging ruin the whole thing, don't they? Yes, Bob, love has no limit! Red, hot, crimson love–the kind this discus represents–ruby red lipstick lusty love. That's what I'm talking about. The kind that makes you stay up at night…thinking…hoping.longing. The kind that makes you want to run forty miles just to see her! The crimson kind, with a lethal dose of lust, and caring.
By Robert Gluck
Reviews (2)
Description
Free Shipping Offer!
Have a question about this product?
---
Only logged in customers who have purchased this product may leave a review.
Description
This fish is for the collector seeking to add the cherry on top of his already extravagant cake. One of the rarest and most desirable strains to come from Malaysia in recent years, this fish is the result of cutting edge breeding developments and is the closest thing to a "purple" fish you will ever see. A guaranteed showstopper that is a sight to behold.
Q: How are your stated fish measurements conducted?

A: All measurements are made from tip of nose to end of tail.

Q: How do I make a purchase?

A: Every discus you see on our website is available for immediate purchase and ready to be shipped to you. Click the "Add to Cart" button on your desired products, adjust your quantities, and follow the checkout instructions. We honor all special requests. Please allow a 2-day minimum handling period for discus.

Shipping Tiers for Live Tropical Fish: 

$60 Airport Shipping, $80 UPS Overnight

Free Discus/Altum Shipping

on orders over $400

Free Discus/Altum Shipping

PLUS your choice of a Complimentary Handcrafted Breeding Cone OR Discus.com T-Shirt  on orders over $600: (add your desired selection to your cart, and use the promo code: BONUS-CONE)

Blackworms: Free USPS Postal Shipping

Plants: $10 FedEx Priority Shipping, Minimum Order: $15

International Buyers Please Note: Import duties, taxes and charges are not included in the item price or shipping charges. These charges are the buyer's responsibility. Please check with your country's customs office to determine what these additional costs will be prior to purchasing.