Rafflesia Throwback Discus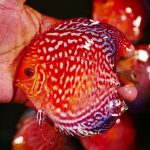 Rafflesia Throwback Discus
$98.00 – $213.00
$98.00 – $213.00
The Next UPS Overnight Shipping Window Unlocks In:
The Current UPS Overnight Shipping Window Closes In:
Blood red with a white pattern, this Rafflesia Throwback Discus makes me marvel at its good looks but, because of its middle name, makes me think of the past. As this iridescent Rafflesia Throwback catches the light, it highlights the gentle white speckles on the intense blood red/orange color combination accented by a delicate medley of blues fringe. This hybrid discus would strike the right note and complement any collection with its bold eye-catching colors.
My past includes playing basketball, a game I've followed since growing up in Jersey and following the Glory Days Knicks, those teams that won those two championships back in the day. Throwback jerseys are worn by different NBA basketball teams to pay respect to a bygone team's uniforms. And to show respect to past players who battled on the court in those championship years.
Maybe this discus is meaning to tell us, by its name alone, that we should respect the past. And maybe, from its blood red color, we should also think about respecting the Veterans who, in the past, helped preserve our freedoms and way of life here in the States by shedding their own blood. I know it sounds a bit tragic. Still, we need to remember. If only to show the respect due our past warriors.
But this fish wants to tell us more so I started Googling words related to it and I began with Rafflesia. Who knew that it means a parasitic flowering plant that has no stems, leaves, or roots? Looking closely, I notice the plant and the fish are similar in color…but that name… Rafflesia… you sure it isn't the main character in an Eddie Murphy comedy film? Nope, a plant, not Eddie in drag making us laugh.
What this discus reminds us of is no laughing matter. With its name and color, it is indeed, a throwback, a reversion…back…back…to a time zone in the past, our past. Contemplating its red and white pattern I remember and vow to always remember, passing on these important values to my children, and if I'm lucky, grandchildren.
By Robert Gluck
Reviews (3)
Free Shipping Offer!
Have a question about this product?
---
Only logged in customers who have purchased this product may leave a review.
Q: How are your stated fish measurements conducted?

A: All measurements are made from tip of nose to end of tail.

Q: How do I make a purchase?

A: Every discus you see on our website is available for immediate purchase and ready to be shipped to you. Click the "Add to Cart" button on your desired products, adjust your quantities, and follow the checkout instructions. We honor all special requests. Please allow a 2-day minimum handling period for discus.

Shipping Tiers for Live Tropical Fish: 

$60 Airport Shipping, $80 UPS Overnight

Free Discus/Altum Shipping

on orders over $400

Free Discus/Altum Shipping

PLUS your choice of a Complimentary Handcrafted Breeding Cone OR Discus.com T-Shirt  on orders over $600: (add your desired selection to your cart, and use the promo code: BONUS-CONE)

Blackworms: Free USPS Postal Shipping

Plants: $10 FedEx Priority Shipping, Minimum Order: $15

International Buyers Please Note: Import duties, taxes and charges are not included in the item price or shipping charges. These charges are the buyer's responsibility. Please check with your country's customs office to determine what these additional costs will be prior to purchasing.